The Rest of the Rest – CES 2017 – Marching Toward the Rest
Steve Case, in his The Third Wave, a future thinking book built on the shoulders of Alvin Toffler's The Third Wave, speaks about the next wave, the rest of the rest in the evolution of digital/internet technology.
Briefly, AOL and other early companies in the build out of the internet were the first wave; Google, Facebook and others represented the second wave.  The third wave is all about extending the tentacles of the internet into all manner of existing businesses, the "rest," from manufacturing and service providers to the creation and distribution of content across the world, effectively completing the connection.
CES is always hard to characterize  in a few words, other than exhilarating, overwhelming, extensive, etc. but to summarize what we saw at the show in a few words, would be marching toward the rest of the rest.
Connectivity in its broadest definition seemed to be everywhere, across all of the many venues and product categories, as one of the most unifying and common threads throughout the entire event, billed as the largest, most well attended CES ever.
Here's how the rest of the rest, the next wave, manifested itself in what we presented in our recent Strategizing CES 2017 blog.
Automotive – By far the most innovative, future thinking and "must see" area of the show.
While autonomous vehicles, as expected, was the dominant concept, it was the overall sense of greater connectivity fundamental to autonomous vehicles, and in communications and entertainment systems, that seemed to be everywhere.
Information display technologies, including augmented reality, were embedded into windshields, and there was even greater use of monitors within the vehicles this year, not just for entertainment, but for side and rear views as well.  As was first seen last year at CES, cameras have taken the place of rear and side view mirrors in concept cars, adding better visibility of the road.
While sensors are found in many of the vehicles we drive today, their prevalence in the next gen car takes the use of sensors to a new level.  It is this array of sensors, communicating with other vehicles, traffic management and map apps through the cloud that is a part of the rest of the rest.
Manufacturers showcased various technologies that seek to create a bond with the owner/driver driven through the use of AI or artificial intelligence.  There were other concept vehicles integrating biometrics into vehicles that have the ability to determine if the driver is becoming drowsy or otherwise impaired and sends a warning signal.
One of the coolest of those products incorporating AI is Navdy.  It ties together voice recognition, audio feedback and gesture control as well as eyetracking.
Past CES events featured more vehicles with alternative fuels.  While they certainly had a presence in 2017, they were not as prevalent as in years past, in part due to electric and hybrid vehicles gaining acceptance in the global market.
Artificial intelligence – AI and its related technologies are still in the very early days of gaining traction in our lives and devices, from laptops and phones/tablets to the myriad of other products & services including many that are a part of the smart home and Internet of Everything/Internet of Things, as well as autonomous vehicles.  This is all a part of the rest of the rest of the next wave of tech.
One very common and rapidly growing use of AI in products showcased at CES was the seemingly ubiquitous use of Amazon's Alexa in, by one analyst's estimate, 700 products around the show.  Google's Home, various other voice recognition products and other uses of AI abounded.
Broadband/wireless connectivity – Although still 3 – 4 years away from a concerted rollout of 5G, as expected, there were a number of leading firms, especially Ericson, Intel and Qualcomm, involved in its deployment showcasing the technology.
Connecting the rest, when there are billions of connected devices all seeking bandwidth, will require next generation wireless to be effective as well as robust wired technologies.
Displays – This product category can no longer be distilled into smartphone, tablets or TVs as there are displays of all sizes and capabilities everywhere.
Although it seems that the level of innovation of some products has plateaued, one of the most unique display were saw was LG's wallpaper thin OLED TV.  It can be mounted on a wall using heavy magnets so that for the most part it becomes part of the wall, like wallpaper.
Streaming devices such as Chromecast, Roku and Apple TV, formerly as HDMI plug ins, were now increasingly built into many devices.  This will help drive the Marching Toward Tipping Point as more and more content is available for streaming, often for live events.
In our opinion, based on their booths, product displays, innovation and general sense of the market, the Korean manufacturers continue to lead the industry.  The many companies based in China are second, based in part on the quality look and feel of their devices, notwithstanding the fact that their US presence is relatively low.  Japanese manufacturers are still prevalent, but running in third place, albeit with quality products as well.
Drone and Anti-Drone – Newton's Law states "For every action, there is an equal and opposite reaction."  Interestingly, at CES, we saw this law of physics manifested in the field of drones.
Drones – Vendors from all points on the drone value chain were present.
Among the many drones at the show, the most noteworthy was the Ehang 184, described by its manufacturer as "the safest, Smartest and Eco-Friendly low altitude autonomous aerial vehicle, aiming on providing Medium-Short Distance communication and transportation solution."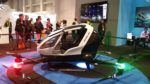 Anti-drone – Safety hazards have become a factor in the reality of drones.  They are not just toys for the family or camera mounts to capture those hard to get to shots for a movie or TV show.  They have become a potential hazard, especially with the number of near misses at airports with commercial aircraft and general aviation or those that have been flown around natural disasters, fires, etc. by irresponsible individuals hampering the emergency crews.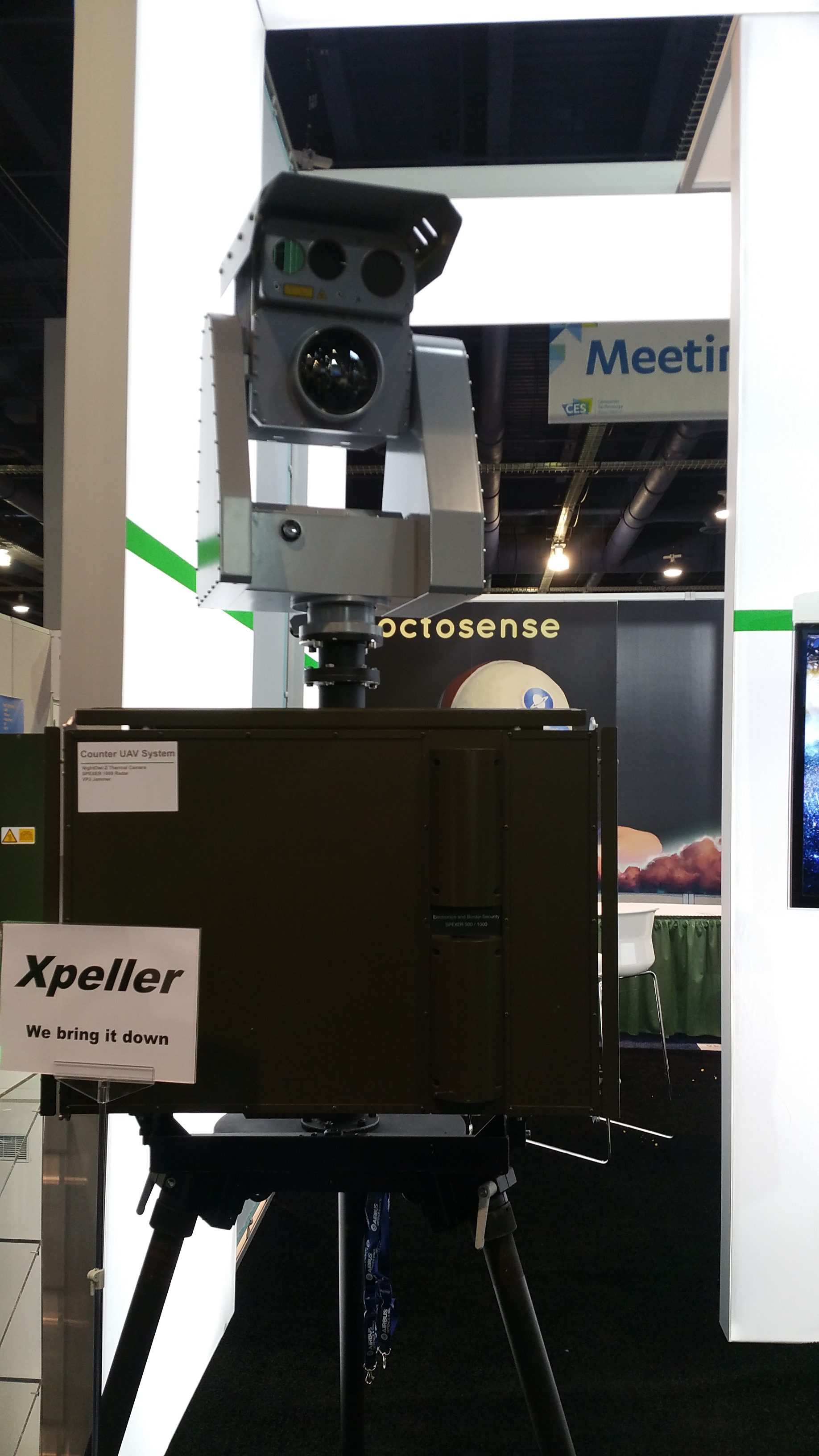 To the rescue is Xpeller, a product from Airbus, a counter UAV system designed to detect and track illicit drones and to shut them down by returning them to their point of origin.  There will be a large demand for these devices from military uses to civilian aviation, outdoor events and a myriad of other uses.
Eyetracking – While we did not include eyetracking in our pre-CES blog, the technology had a greater than expected presence at the show.  Most noteworthy in this category was a wheel chair from EyeTech that operates by having the user gaze at the attached display to enable tracking.  From there, the chair may be operated through the eyes, moving it in all directions.  Very smart indeed.
Other eye related technologies were exhibited for medical purposes, e.g. concussion and disease, and driver monitoring.
This is a market segment that is still nascent, notwithstanding the sophistication of many products, so expect more and better in the coming years.
Virtual reality/augmented reality – These two technologies are distinctly different, but seem to always be grouped together.  Augmented reality based displays, from windshields to HMDs and next gen eyewear/spectacles, were exhibited throughout the show.
Enterprise AR has real possibilities with strong inroads already underway.  One stand-out in particular was Osterhout Design Group (ODG) a company that we have been following since last year's show.
Virtual reality had an even greater presence than in years past as the various companies on that value chain work hard to gain market acceptance, now that the largest manufacturers have finally come to market with their products.  The key question is whether VR will result in consumers actually spending money for headsets and content, beyond the core gamer market.  It may be a couple of years before that is known – one way or the other.  One recent report from one of our panelists, Gene Munster's Loup Ventures, cites the current excitement index rate at 10.2% on a scale of 100%
At one point we felt goggled out as it became very difficult to differentiate one VR exhibitor from another, whether for headsets, content, cameras or accessories.
It is an exciting time to be monitoring the evolution of consumer electronics and their applications in our everyday lives, from what we each do in business and, of course, how it impacts our home and personal lives.  While the changes occur throughout the year, CES has become a convenient point in time to track the changes one year to the next.  See you there in 2018.
As for The Shindler Perspective
The past few months have been busy for us on many matters.  In addition to our advisory work, here is a quick overview of our more public focused events.
Summit on Utah's Digital Future – Utah is home to many smart technology and creatively focused universities and companies.  We were pleased to be invited to be one of the keynote speakers at the recent Summit on Utah's Digital Future in early December at the new state of the art Park City Studios.
Digital Hollywood – My two panels at Digital Hollywood in October on the timely topics of The Future of TV and The Future of Film were well received and well attended.  The panels were comprised of executives representing forward thinking organizations, and that was reflected in the discussions.
These two topics are fundamental to not only our work and to those of many in our client base, but they are important to many of us in our personal lives.  Both panels are available for streaming via the links above.
Trends in the marketplace
The smartphone, a device first brought to the forefront of peoples' minds 10 years ago, has been instrumental in the way digital technologies of all kinds have fundamentally changed our personal lives and the way businesses work in Marching Toward the Rest.  Pew Research recently published stats that indicate that 95% of Americans now own a cellphone of one kind or another and 77% own smartphones.  Roughly 8 in 10 own laptops or desktops, in what is a saturated market.
Comics reflect reality
Out of the box – Out of the box, thinking that is, is valuable to all types of organizations.  We provide the companies with whom we work with knowledgeable but independent insights for business.  It is a hallmark of what we do, especially in facilitating discussions amongst team members and in devising strategies and tactics for growth.
Miniaturization – Miniaturization is fundamental to the above stats on smartphones and laptops.  It was not always that way as Bizarro makes clear.
Social media – Social media is a fundamental part of the rest of the rest, especially when one considers the significant percentage of people who indicate that it is how they get their news according to many surveys.  Its use has penetrated deeply into the populace, well almost, as Non Sequitur points out.
And speaking of social media, follow our posts on important trends in the marketplace, key stats, box office and TV ratings, major industry announcements, streaming media announcement of the day, speaking events and, of course, comics reflect reality.  I post regularly on Facebook, Twitter, LinkedIN and Google + on these and other topics.  Leave a comment or a simple Like.
Roberta and I wish our clients, friends and family, a successful year in 2017.
For The Shindler Perspective
Sincerely,

Marty Shindler
Chief Executive Officer