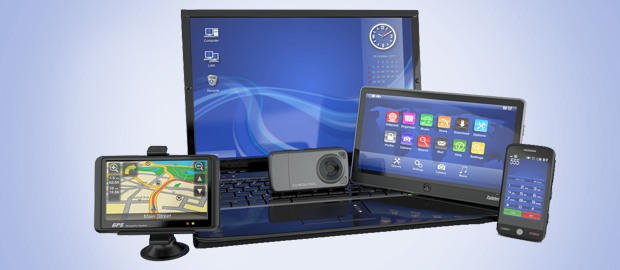 In Service of Story – Displaying the Future
It's all about story.  It always has been and always will be.
Without good plot and relatable, compelling characters, stories cannot succeed critically or commercially.
And, all the work that takes place from start to finish, in developing, producing and distributing content is in service of story, no matter if it is a major movie or TV show, commercial or short form user generated content.
Great visual effects, sound, locations or other craft aspects of movie and TV production do not make up for poor story and characters, so those vendors know that what they do is in service of story.
Stories these days come in all sizes and shapes – not just the several aspect ratios used for feature films, but different shapes, for example, the vertical format used in Snap short stories.
Today, stories are displayed on a myriad of devices of different sizes and shapes and in a wide variety of ways.  As with packaging all sorts of products, if not displayed correctly, it may detract from its goals.
Indeed, last week Apple awarded Corning its first Advanced Manufacturing Fund investment of $200 million looking to the day when all glass is a screen.
These displays and how and where we use them are changing dramatically as is the entire value chain and ecosystem.
Ecosystem and the smartphone – The ecosystem on which stories and displays are dependent is far different from the ecosystem of old.  From initial planning and development, image capture, editing through to distribution, content travels over an ever-expanding global network.  Initially built on a wired infrastructure, we moved to wireless and soon to a very high speed 5G system that will ultimately replace the current 4G/LTE technology.
Consider that the smartphone, a product that brought rapid changes to the ecosystem just celebrated its 10th anniversary.  In some respects that represents an eternity and in other respects it is a blip in time.
The smartphone changed the way that many of us view stories, from the early small, low resolution screens to the current large, high resolution screens on both phones and tablets, as well as on increasingly better laptop screens, all supported with the more robust network and faster processors.
The processors also support the ongoing growth of artificial intelligence that will go far beyond the recommendation engines of streaming systems and e-commerce sites as AI is incorporated into a plethora of products.  In all manner of products and services in the coming years, AI will drive significant innovation.
Production – Anticipating displays of the future, and to future proof content, producers and directors are using more sophisticated cameras with higher resolution and often high frame rates and high dynamic range, 6K, and for select scenes, 8K resolution is used frequently.  Next gen displays will manage an abundance of data for a variety of uses, some of which have not yet been anticipated.
Exhibition – Getting an audience off the couch to a theater requires a superior experience than the one at home.  While Imax and private label premium large format are well entrenched in the marketplace, other immersive systems are coming to market, e.g. Barco Escape.  Future theater displays may be very different from those in the marketplace today.
What is now a 40, 50 or 60+ inch screen in our homes could well be a 40, 50 or 60+ foot screen in the cinema.  It may be glass based, LED, OLED or other new technology.  It will have all of the capabilities of today's sophisticated TVs and then some.
TVs – There is a large installed base of HDTVs around the world, but as more 4K content is available and as prices decrease, consumers will be enticed to upgrade.  High dynamic range (HDR) displays may be what does it.  As the US and the rest of the world transition to OTT/IPTV delivery of content, the connected TV will play an increasingly larger role.
This will be demonstrated as we head toward the next two Olympics, winter 2018 in PyeongChang, South Korea and summer 2020 in Tokyo, Japan, arguably two of the most technologically astute countries.  Plans are already in place for both 4K and 8K, with significant portions of the programs streamed live.
Concurrent with the smartphone revolution, voice and gesture control technology is taking hold.  Screens that will be in our homes in the near future will have the ability to know who is in the room, their likes and dislikes and will be able to respond to voice commands, directly, or through our mobile devices.
Expect that the next generation of TVs will remind us of Tom Cruise in Minority Report. Although those images were simulated, gesture controls such as drag and drop and swipe as well as voice activation will be incorporated into products.
Eyetracking, already a feature in some laptops, especially products built for those with limited hand/movement capabilities, enable opening and closing files, double clicking and other functions.
The feature will be built into TV displays, in part to support the advertising as to what is watched or not watched as it measures gaze time.  In our fragmented content monetization ecosystem, where some content is ad supported and some is subscription based, this will become more important.  Of course, one hopes the manufacturers will require that we opt-in for our privacy.
Far field voice control – Amazon's Alexa and Echo, Google Home and other AI based tools will have the ability to control our displays, among many other functions.  Amazon recently announced a touchscreen display coming soon to Echo.
Virtual reality and augmented reality – No discussion of the future of displays in service of story would be complete without considering VR and AR.  VR, by many analysts' reports is 5 – 10 years away from any meaningful penetration.  It is a tech that hit the Peak of Inflated Expectations of the Gartner Hype Cycle quickly, where for many it still remains.  In time, it will slump to the Trough of Disillusionment before ascending in some fashion to the Plateau of Productivity.
AR, on the other hand, still nascent by most accounts, has a higher probability of near term success.  The lighter weight glasses will enable viewing of a feature film or a TV episode, for example, but will also serve a vital role in numerous aspects of the enterprise.
Folding – Mobile devices, whose longer life due to stronger materials that resist breaking from dropping, will continue to be more rugged.  Simultaneously, we will have the ability to fold our devices for storage, starting with smaller devices such as phones and perhaps even larger screens in the future, e.g. the large TV display in our homes might just roll up into the ceiling ready to unroll at our voice command.
It's all in service of story.  As we proceed to the future, displays, whether the above concepts or those related to digital signage and holograms and others on the horizon, will continue to evolve in a variety of ways for our viewing pleasure.
As for The Shindler Perspective
The last few weeks have been busy with attending the always informative National Association of Broadcasters' Conference (NAB); CinemaCon, the primary conference of movie distributors and exhibitors; IHS Markit Media and Technology Conference; completing an expert report and preparing for SID and Digital Hollywood.
SID – Society for Information Display's annual Display Week is in Los Angeles this year, May 21 – 26 at the Los Angeles Convention Center.  We'll be there at the Stifel sponsored Investors' Conference entitled "Trendspotting in the Emerging Display Technology Ecosystem" and checking out new tech on the exhibit hall floor.  In addition to those technologies related to the above commentary, we'll be looking at the latest in automotive displays.
Digital Hollywood – Spring Digital Hollywood is fast approaching and will be held May 23 – 25, 2017 at the Skirball Center in Los Angeles.  I have two forward thinking and very topical panels that I will be moderating with an outstanding group of industry executives participating.
Both panels are on Wednesday, May 24, 2017.
The first, to be held at 7:45 AM is:
Future of TV – Wall St. Analysts Meet Industry Executives – It's All About innovation and Disruption – Moving into the Next Wave
Ben Bloom –Service Line Director, Technologies Media + Gaming, Akamai;
John Corser, VP Production at NBCUniversal Cable Productions;
Lindsay Gardner, Chief Content Officer at Layer3TV;
Gene Munster, Managing Partner, Loup Ventures, previously managing director and senior research analyst at Piper Jaffray;
Larry Namer, President/CEO, Metan Global Entertainment Group, Founder E! Entertainment;
Marty Shindler, CEO, The Shindler Perspective, Inc., Moderator.
The second scheduled for 1 PM is:
Future of Film – From Cinema and Immersive Entertainment to VR/AR and Theme Parks – The Franchise Expands!
Heather Blair, Head of Cinema Sales, MediaMation, Inc.;
Todd Hoddick,CEO Barco Escape;
Gene Munster,Managing Partner, Loup Ventures, previously managing director and senior research analyst at Piper Jaffray;
Ted Schillowitz,Futurist, 20th Century Fox and Chief Creative Officer Barco Escape;
Kyle Villella, Vice President Distribution, Fathom Events;
Chris White Vice President Business Development, Osterhout Design Group;
Marty Shindler, CEO, The Shindler Perspective, Inc., Moderator.
In early June, we'll be checking out what's new at the always exciting E3 and CineGear Expo.
Trends in the Marketplace, Comics Reflect Reality
We tend to post many of the latest trends and stats and comics reflect reality regularly on Facebook, Twitter, LinkedIN and Google +, so keep a watch out for them.  Click Like or leave a comment.
Sometimes they relate very closely to the newsletter topic, and sometimes not.  This month there is a direct connection, so to speak.
Never looking back – 50.8% of US households are now cell phone only as of the end of '16, according to a recent US government report per The Associated Press.  45.9% still have landlines.  The remaining 3.7% do not have phone service.
By comparison, last summer as the current TV "season" was starting, according to Variety, "Nielsen found that the percentage of total U.S. homes receiving traditional TV signals via broadcast, cable, DBS or Telco, or receiving a broadband internet connection, grew to 96% — up 0.8% from last year."  This would put TV ownership on par, if not slightly ahead of phone service in US households.
Trends in the marketplace – While smartphone use continues to increase, tablet ownership is declining.  According to GlobalWatch, tablet fatigue is a trend and "it's clear that internet users are not only failing to purchase new tablets, but that many existing tablet users are choosing not to upgrade their devices."  Duncan Stewart of Deloitte Research cites a study from IDC that there have been declines in sales for the past 10 quarters, with Q1 17 down 8.5% Y/Y.
Comics reflect reality – This very recent Blondie clearly shows the impact that the smartphone has had for us in so many ways beyond voice and internet.  Indeed, the expression "there's an app for that" applies to all sorts of uses, from flashlight to compass, level, and so many others, enabled by sensors.  What unique apps do you use that are not voice, text or internet related?
Roberta and I look forward to continuing to communicate with all of you.  We hope to see you at the above conferences, industry events and on the internet.
For The Shindler Perspective, Inc.
Sincerely,
Marty Shindler
Chief Executive Officer
© 2017 The Shindler Perspective, Inc.