Digital Hollywood Fall 2014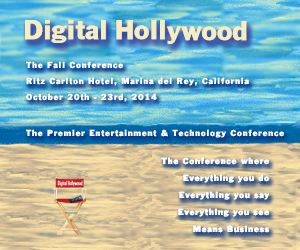 Digital Hollywood continues to grow and draw an excellent audience.  Once again, Marty Shindler will be moderating discussions on topics of import and relevance to the global Hollywood business community.
Due to its continued and growing importance, the The Future of TV: From Primetime to MultiPlatforms: Wall Street Analysts Meet Entertainment Executives was presented at 7:45 AM on October 21, 2014.
Panelists to included:
Cindy MacKenzie, Managing Director, Entertainment, Media and Communications, US, PwC (PriceWaterhouseCoopers)
Larry Namer, President, Metan Development; Founder of E! Entertainment
Michael Pachter Managing Director, Equity Research  Wedbush Securities
Dounia Turrill Senior Vice President, Client Insights, The Nielsen Company
David Watkins, Director – Connected Home Devices, Digital Consumer Practice, Strategy Analytics
This panel was webcast live.  The archival copy may be found at the panel home page or on You Tube.
A picture of the panel may be found by clicking here.
The second panel at 10:45 AM was Hollywood Strategies – The Multi-Platform Brand – Theatrical, Video, TV & Mobile – Multiple Screens are the Future – the 360 degree.
Panelists included:
Phil Groves, Senior Vice President, IMAX Corp & Executive Vice President, Global Distribution, IMAX Entertainment;
Robert Lenihan, President of Programming for AMC Entertainment Inc.
Kevin Lin, CTO, You on Demand
Mitch Singer, President, Digital Entertainment Content Ecosystem
Andrew Solmssen, Managing Director, Possible, Los Angeles
A picture of the panel may be found by clicking here.